The Laurels of Carson City Staff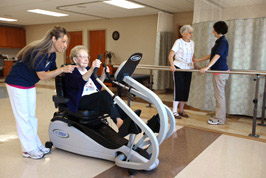 What differentiates one skilled nursing & rehabilitation center from another? The answer is... the people who work and reside there! The people set the tone, the atmosphere, and the expectations. At The Laurels of Carson City, we take great pride in ensuring that everyone feels like part of our family, and that they are treated as special "guests" in our home.
The Laurels of Carson City employs a team of highly qualified medical professionals, including a Medical Director, Registered Nurses, Restorative Care Nurses, a Wound Care Nurse, state tested Certified Nursing Assistants, Physical Therapists, Occupational Therapists, and a Speech Therapist. Our on-site Rehab, Dietary, Social Work, and Activities departments provide personalized and compassionate care to each guest. From the moment you walk through the front doors, the warmth and caring of the staff will begin to gain your trust and confidence, as they strive to exceed your expectations.
Unlike other facilities that use "contracted" staff members, each member of the team at The Laurels of Carson City is directly employed, not "contracted". Each Team Member takes great pride in portraying "The Laurel Way of Caring", as they strive for excellence in providing only the highest standard of care and services to every guest, and to every family member and visitor. Come on in! Visit a while! Let us show you our very best... let us show you The Laurel Way.
Kristin Milton, Director of Nursing
Kristin has been a part of Laurel Health Care Company since 2004. She began her nursing career as an LPN, then became an RN. She has held various positions such as Charge Nurse, Unit Manager & Assistant Director of Nursing before transitioning into the current role of Director of Nursing. She has spent her entire career working in the long-term care & sub-acute rehab. She feels that caring for this population is her calling and is proud to work with such a great group of people.
Samantha Van Etten, Director of Marketing
Samantha became a member of The Laurels in January 2016 after several years of experience in the healthcare field she has been with the Laurel Health Care Company for almost 13 years as starting with the company with her Certified Nursing Assistant. Samantha attended Lansing Community College with a degree in business. Since then, she has worked the skilled nursing field helping bring awareness to the communities. She resides in Fowler with her spouse and 2 beautiful children. In her leisure time Samantha enjoys boating, spending time at her cabin in Houghton Lake with her family.
Danielle Matson, Rehabilitation Services Director
Danielle's been working in skilled nursing facilities for most of her rehab career. She graduated in 1999, specializing in Occupational Therapy. After getting a couple years experience under her belt, she decided to try traveling therapy. For three years Danielle traveled from the east to the west coast working with the geriatric population. With traveling she grew clinically by learning through her co-workers and completing continuing education credits in many states she traveled to. In 2005 she took a position as a treating therapist at The Laurels of Fulton and in 2007 advanced to the rehab services director. In 2008, she transferred to The Laurels of Carson City to begin yet another new challenge. With her outstanding therapy staff and great mentors, she and her rehab team received many awards for management, and rehabilitation throughout the year in 2008. Danielle believes that being part of the geriatric population was her calling. She continues to be a licensed Certified Occupational Therapist Assistant, in the state of Michigan.